Sunday morning, I woke up and realized, I had no responsibilities. My guitar remained in its case. There were no sermon notes to go over. I was not anybody's pastor. I loved the feeling and I missed it too. It's time for a change – for me and The Vine Church of Petaluma. Here (and below) are my parting words to the Vine and friends.
Dear Friends of the Vine,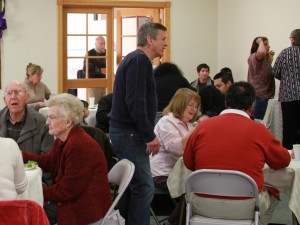 We banded together five years ago to start a church, built on faith in God, authentic relationships with each other, in service to God and our community. Our namesake verse was our goal – to live in Christ.
"I am the vine; you are the branches. If you remain in me and I in you, you will bear much fruit; apart from me you can do nothing." – Jesus, in John 15:5
During the last five years,
We took great risks and got off to a good start. We hosted a beautiful Christmas concert our first year, many movie nights and a few community service projects.
We met regularly for worship and prayer.
We prayed for each other, encouraged each other in tough times. You certainly supported me in a difficult time in my life and career.
We had great fun with a worship band – with some older and younger musicians.
We served with City Ministries churches and supported them. Some supported us with equipment – sound, chairs and banners.
We became a place of refuge and hope for people going through separation and divorce through the Divorce Care ministry.
We served in the community – Redwood Gospel Mission, Windsor Care Center and Adobe House.
We housed the homeless, though not intentionally 🙂
We supported COTS with our giving and volunteering.
We encouraged and helped other churches, including some minority congregations in transition and a few start-up businesses too.
I believe God is leading me to make a change. I'm a plant that needs re-potting. Sometimes you need to put a plant in a larger pot or a smaller pot, but a different pot. A different mix of soil. I've discovered church planting is not the best fit for my spiritual gifts and skills. I don't have specific plans, but I will be seeking involvement in ministry where I can be more effective in bearing fruit for God's Kingdom.
Plus, there's the practical matter – I am years, not decades away from retirement age. I don't have the luxury of putting off the need to invest more in my retirement.
I need to make a change and I believe a change is good for this church too. I will always remember you and these five years fondly. Though I won't be your pastor going forward, we will always be friends.
My thoughts are best expressed in this benediction from the Prophet Zephaniah, shared with me by Wally Drotts:
"The Lord your God is with you,
He is mighty to save,
He will take great delight in you,
He will quiet you with his love,
He will rejoice over you with singing."
– Zephaniah 3:17
With gratitude and love,
Pastor Dave Weidlich