What and Where is Straubville?
Straubville is an area located a few miles west of Petaluma on Bodega Avenue near the intersections of Eastman Lane and Lohrman Lane. The old-timers describe Straubville as a bustling hub of commerce back in the days of Petaluma's chicken farmers.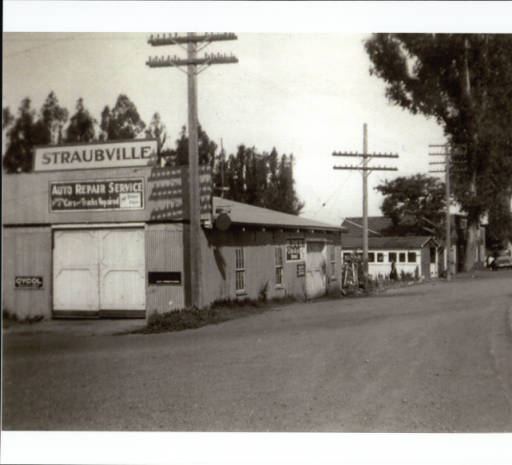 Straubville is home to many sheep and goats. People also live here. Here's a picture from 1928 showing an auto repair shop, now the home of Dave's Auto Repair. (Thanks Sonoma County Library)
Kimberly Widdlesticks declared herself Mayor of Straubville, claiming that the goats of Straubville elected her unanimously when she promised to build a 100 foot wall between Petaluma and Straubville. The wall was never built and Ms. Widdlesticks' website expired, ending her covert and unceremonious reign.
Straubville may well have been the inspiration for the song, "Dead Skunk in the Middle of the Road," (1972 by Loudon Wainwright III) as you'll often find fresh roadkill in the middle of Bodega Avenue or Lohrman Lane. Not coincidentally, Straubville welcomes a high population of turkey vultures who feast and sometimes perish, fulfilling their duties as wildlife managers. Bodega Avenue is a busy road.
What do you remember about Straubville? Comments are welcome, below…