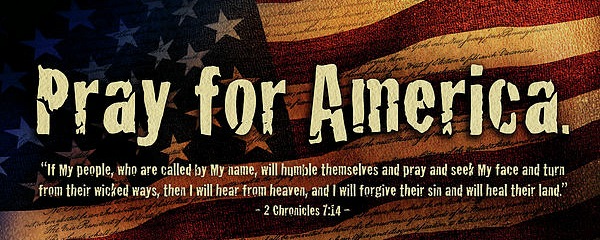 Please join Penngrove Community Church and the Vine Church of Petaluma
as we lift up our nation in prayer, especially as we face an election for
President, Senate, House of Representatives, State offices and propositions and local offices.
Our prayer meeting will take place
Sunday, Oct. 23, 6:00 PM
at the Vine Church of Petaluma
1129 Industrial Ave., Suite 208.
Other churches have been invited, but are unconfirmed. Feel free to invite praying friends.
John & Joanne Richards
Rev. Dave Weidlich
Rev. Roger Hoffman
"When I shut up the heavens so that there is no rain, or command locusts to devour the land or send a plague among my people, if my people, who are called by my name, will humble themselves and pray and seek my face and turn from their wicked ways, then I will hear from heaven, and I will forgive their sin and will heal their land. Now my eyes will be open and my ears attentive to the prayers offered in this place." – 2 Chronicles 7:13-15